On July 14, 2022, the Center for Law, and Innovation Policy, hosted a panel discussion on Artisanal or Small-Scale Mining (ASM) in Ghana, to stimulate discussion, engage stakeholders and explore the positive and negative aspects of small-scale gold mining, and accelerate the creation of an enabling environment for the ASM sector.
Even though artisanal and small-scale miners account for more than 60% of Ghana's mining sector labor force, disheartening news items continue to cause ripples in our communities. As recently as July 12, 2022, it was reported that two individuals had drowned in a galamsey pit at Manso Muano in the Amansie South District of the Ashanti Region. On May 10, 2022, the Daily Graphic reported that eleven persons who engaged in illegal mining in the Atewa Forest in the Eastern Region had been sentenced to prison terms ranging between five and fifteen years. Data from the Ghana Prisons Service for 2016, 2018, 2019 and 2020, which The Fourth Estate received through a right-to-information (RTI) request revealed that 220 people were jailed for illegal mining offences. Living up to our goal of being a focal point for addressing issues across the legal, policy and innovation platforms, we brought the experts to the table to dissect the issues and chart the path to sustainable people centered solutions. Challenges and barriers in the way of regularization were highlighted with a focus on practices that have negative effects on the environment, most notably the use of mercury in gold processing. Our experts indicated that over the past few decades, governments, have taken different approaches towards artisanal miners. In 2019 for instance, the Minerals and Mining Act in was amended to criminalize aiding and abetting illegal mining activities and the use of unapproved equipment for mining in water bodies. It also prescribed a minimum sentence of 15 years and maximum of 25 years in prison for non-nationals who engaged in illegal mining.
Our panel included Abena Ayensu-Worshie, the Director responsible for Legal Affairs at Ghana's Environmental Protection Agency, Eric Emmanuel Bukari, an Assistant Manager at the Small Scale Mining and Industrial Minerals Directorate of the Minerals Commission, Justine Shirley Seyire Dzadra, Chief Programme Officer of the Environmental Protection Agency (EPA) of Ghana, and Godwin Amarh, General Secretary of the Ghana National Association of Small Scale Miners and the CEO of Transeco Minerals and Mining Ltd, and was moderated by Enyonam Dedey-Oke.
The discussion explored the current regulatory framework for the sector, the economic benefits of artisanal mining, working conditions for sector players, challenges that small scale miners are experiencing, global trends and the dynamics, conflicts, or tensions if any between large mining companies and artisanal or small-scale miners. Abena Ayensu Worshie, talked about the legal landscape and touched upon international policy approaches, with a focus on South America, that companies and governments could explore to promote the establishment of an effective due diligence process to identify and address risks. Mr. Eric Emmanuel Bukari shared some guidance on work been done by the Minerals Commission, notably Community Mining Schemes, emphasizing stakeholder engagement, with membership spanning the District Chief Executives, The Environmental Protection Agency, Water Resources Commission, Assembly Members, and traditional authorities. To further move this along, the Minerals Commission has also launched an operational manual for the small scale and community mining scheme. Godwin Amarh shed some light on current issues affecting small scale mining and indicated that some licensed large-scale miners sublet their prospecting licenses to smaller operators including foreign entities against the law, noting however that non-nationals are allowed into the small-scale mining sector to provide ancillary backing in the form of technical support to small-scale miners. He called upon the regulatory agencies to streamline their licensing, monitoring, and enforcement processes to eliminate bottlenecks present in the small-scale mining sector, adding that the waiting period for licensing is a likely barrier to small scale legal mining. On the topic of managing the environmental degradation, Justine Seyire Dzadra indicated that the environment is a shared responsibility, and not the responsibility of the regulator alone, she added that individuals, communities, and stakeholders all have a part to play in ensuring that we protect the environment for future generations, and ultimately promote equitable peace and development.
At the end of the discussion, panelists indicated that formalization rather than criminalization of ASM was the recommended path forward and this could include the introduction of a legal and regulatory framework providing access to minerals, geological data, capital, equipment, and technical assistance to improve working conditions in the sector. We encourage you to remain engaged with CLIP as we explore the path to an enabling policy environment for a robust artisanal and small-scale mining industry that is environmentally sustainable and economically beneficial to the state and citizens.
You asked and so we are sharing feedback from our July 14, 2022, panel discussion on Artisanal or Small-Scale Mining in Ghana.Feedback from our post event survey indicated that 100% of respondents found the topic relevant,
And on the question of how engaging the speakers were, most respondents were sufficiently engaged during the panel discussion.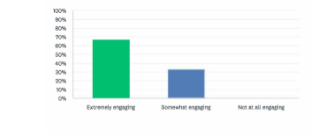 Fifty percent of participants indicated that the panel discussion was excellent whilst the other found it satisfactory/good.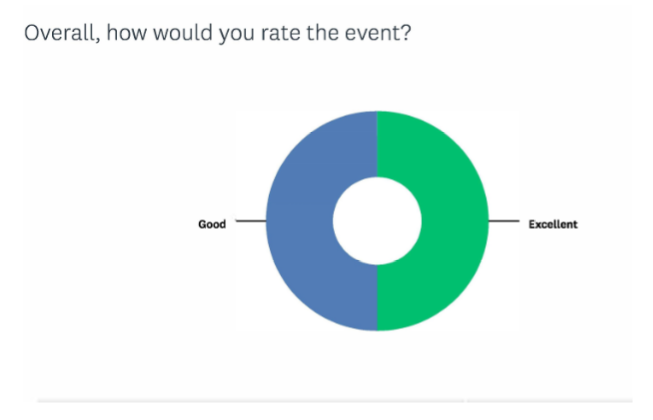 In our quest to improve our programs and content and make sure that we are addressing your concerns we asked if all your questions were answered only 16.7% of respondents indicated that in addition to all their questions being answered, they also learnt something new.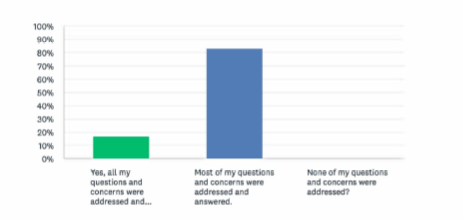 The remaining 83.3% indicated that most of their questions were answered, suggesting that they left the panel without getting all the information they were expecting. When we probed further and tried to surface the questions and concerns that were not addressed, we did not get much feedback, the majority left it blank.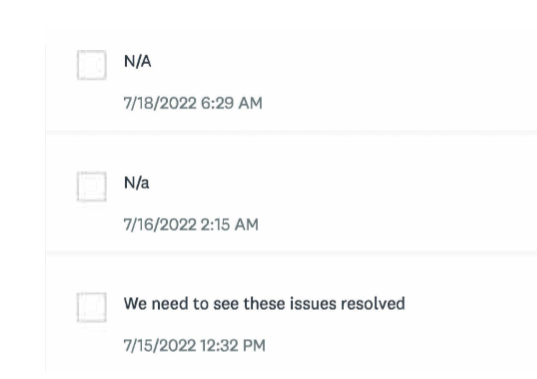 Sixty-seven percent of attendees indicated that they would recommend a program by CLIP to a friend but did not share any additional feedback to help us improve.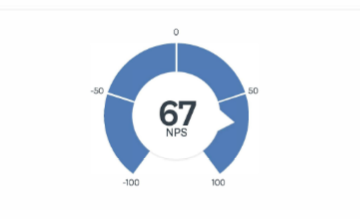 The Center for Law and Innovation Policy would like to hear more from you on this topic. We are eager to move the dialogue forward to support reform. Thank you all once again for joining us and stay tuned for details on Part 2. Visit us at clipgh.org and leave comments, suggestions, and ideas for future programs. Our goal as always is to be a focal point for addressing issues across the legal, policy and innovation platforms, leading to people centered solutions.